B2B Dealer Ordering Ecommerce Solution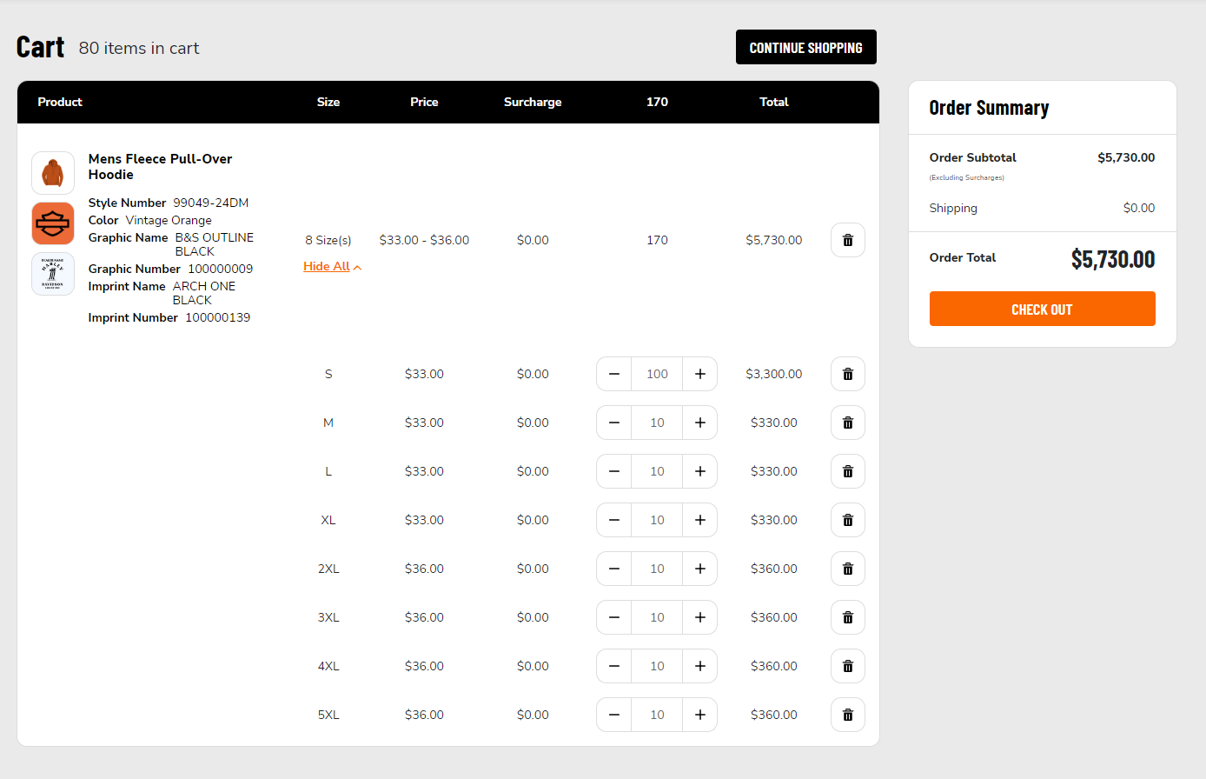 Headless Ecommerce Solution Developed for Major Motorcycle Brand
Project: Headless Ecommerce Solution Developed for Major Motorcycle Brand
Client: Major Motorcycle Brand
Our client, a major motorcycle brand company, sells branded merchandise through its' worldwide dealer network. The products are branded merchandise which can be customized by each dealer from a large selection of graphics and images.
Challenge: No Automated Process for Processing Complex Customized Orders
There are many specific brand rules which made ordering complex and difficult for dealers and the entire process was handled using offline mechanisms like email and phone. Orders being placed had hundreds of units per order with customization for each product type. The original process was oriented around excel spreadsheets and many meetings with clients. Finally, catalogs and options change 3 times a year which further created additional challenges during the ordering process.
Our client engaged with Dunn Solutions to provide a new digital buying experience built on the BigCommerce platform transition them from a manual process to a fully automated B2B Ecommerce platform.
Solution: Dunn Solutions Develops Headless BigCommerce Solution
Dunn Solutions worked with our client to gather requirements and created technical specifications to build a headless BigCommerce solution to support this complex and custom rule-based ecommerce workflow. Our team decided to deliver a headless BigCommerce solution to be able to offer a custom user experience that can be further enhanced in the future to any specific UI/UX demand our customer had. We leveraged the BigCommerce Cart API and Order API for order management, and BigCommerce's native catalog for product and variant handling. Key to the success of the project was the intuitive workflow which graphically allowed a user to shop and configure their products while adhering strictly to the brand rules desired by our client. This meant that only valid orders were allowed to be processed in the cart.
Result: Solution Provided Streamlined Customer Experience
The solution is now live and provides a curated and customized customer purchasing journey. This BigCommerce solution successfully enabled an automated, seamless ordering experience for the client and the internal business, eliminating manual excel spreadsheet orders or manually entering orders into the ERP. Dunn Solutions implemented business logic into the ecommerce solution which drives productivity and eliminates manual business processes. As a result, this increased dealer satisfaction with the ordering process and eliminated re-order and cancelled order issues inherent the manual process.