Featuring
CLV in the Customer Journey

What is CLV and Why is it Important?

Drivers of CLV

CLV Webinars and Case Studies
Customer Lifetime Value in the Customer Journey
Understanding how and where potential customers come from, how they engage with your brand and when they decide to stop engaging with you is a MUST for growing sales. Predictive analytics uses your data to understand and drive every touch point of the customer journey.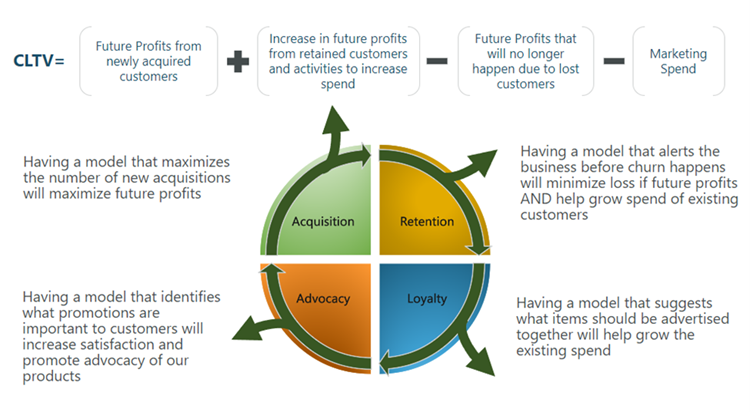 What is CLV and Why is it Important?
Customer Lifetime Value (CLV) is the amount of money a specific customer is projected to spend on your companie's products or services in their lifetime.

It's not enough to have the product or service customers are looking for. Your organization needs a strategy to increase profit for the company while enhancing your customer's experience.
How much of my budget should be allocated to retaining customers vs. aquiring them?
What channels and what spend should be allocated to customer lifetime value?
What is our most profitable customer channel and segment?
Is our product mix and new product development pipeline supporting our CLV strategy?
Are our products priced correctly?
Having the data and insights to answer these and other questions will support your business goals and direct your Customer Livetime Value strategy.
Drivers of CLV
There are many drivers that factor into determining a customer's lifetime value. To determine Customer Lifetime Value and maximize ROI, our business intelligence team commonly executes these predictive analytics:
Marketing Mix Analytics
Customer Segmentation
Customer Churn
Market Basket Analysis
Promotional Pricing
Click on each to learn more about how our specific predictive analytics tactics can grow your customers and sales.
CLV Webinars and Case Studies
Here are some links to content that Dunn Solutions has created to demonstrate how CLV can impove sales and profits:
Case Study: Jakes Groceries
"Highly Capable Technology Consultancy Firm." Dunn is a great partner that supports implementing video-powered storefronts for salespeople, powered by TVPage. We have realized that Dunn is meticulous in its understanding of our systems and associated client needs.
"Great Liferay and PowerBI Solutions Partner." Dunn is a great partner to have. An extremely flexible and supportive group around various digital needs for us. They have a deep level of experience with Liferay, SAP, and various other solutions and topics as well.
"Pragmatic, Effective and Responsive." Dunn has been very responsive in providing a variety of resources to meet my needs. When planning technology upgrades or re-platforming, they understand that technology implementation is the easy part and we need to focus on the full adoption of said technology.
—
Eric S
IT Leader, Digital Transformers, Team Builder
"Our Business Intelligence Go-To." Dunn Solutions provided a POC data model and warehouse for very complex logic for our subscription KPI, they have also helped with the whole strategy for our Executive Reports with the use of Informatica and Business Objects publications to completely automate the process.
—
Maria J S
Manager Finance Business Intelligence Operational reporting, Data Quality and Project Support
Browse through our content library
WHITE PAPERS, WEBINARS, AND BLOGS