Featuring
What is a Customer Data Platform?

How Do We Implement a CDP?

CDP Integration Services

Benefits of a Consumer Data Platform: 360-degree view of the customer

Customer Journey Mapping and CDP

Machine Learning Provides Actionable Insights
What is a Customer Data Platform?
Understanding your customers and all their interactions with your organization is critical to your sustainability and profitability. A Customer Data Platform (CDP) allows you to hyper-personalize experiences through every touchpoint of the customer journey. Empower your marketing, sales, and service teams with integrated customer data.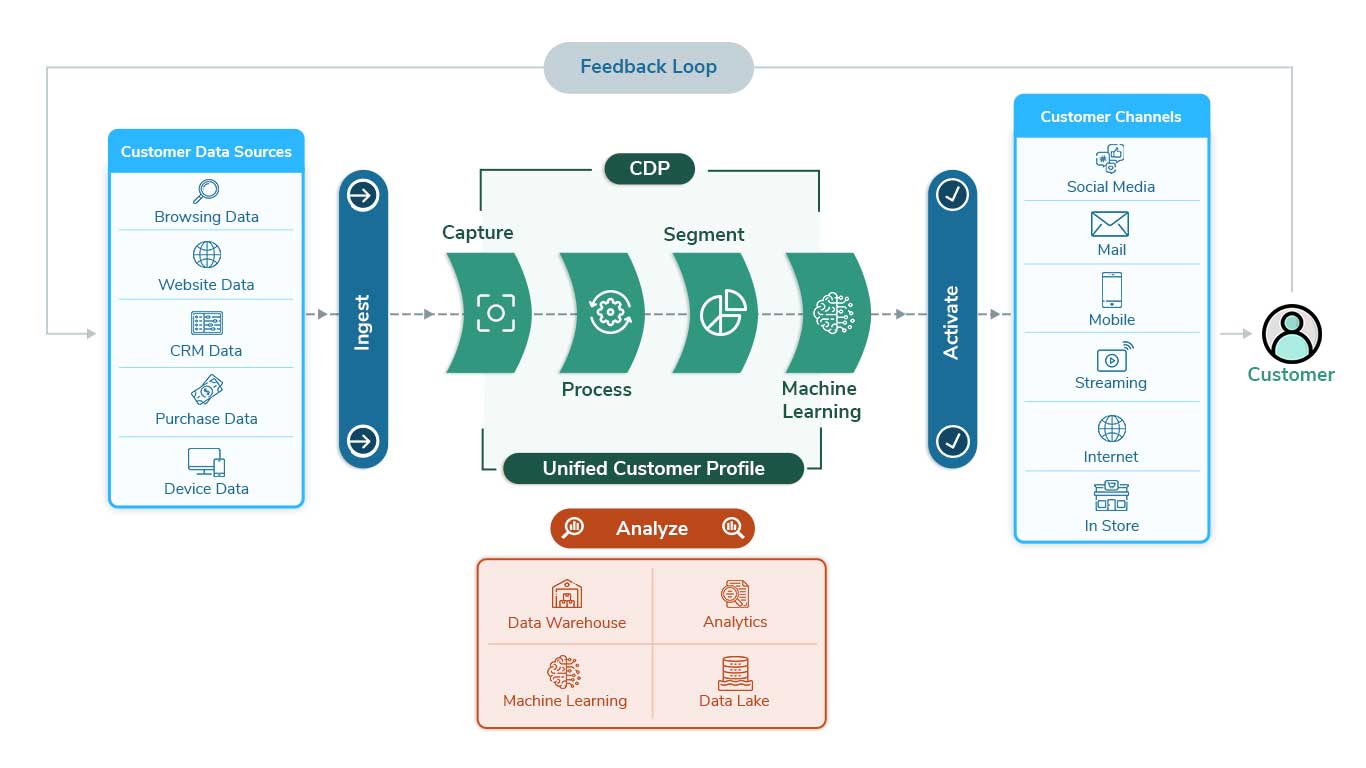 How Do We Implement a CDP?
Customer Data Platforms (CDPs) use consolidated data to drive actionable insight. Let Dunn Solutions take the guess work out of implementing a CDP. We follow these steps to deliver a successful CDP project:
Client identifies a cross-functional team which includes marketing, sales, and operations
Dunn Solutions conducts a customer journey strategy session with team to:

Identify and documenting customer journeys by persona
Identify opportunities to engage with the customer on their journey, both digitally and non-digitally
Identify current and opportunistic data points (CRM, POS, ERP, reviews, website, etc.) along the journey

Dunn Solutions implements a CDP solution and uses data engineering to connect and pull data from all identified data system
This data is then used to trigger the customer journey automation workflows
Machine learning models are used to fill in the blanks and identify derived trigger points and events which are also used for engagement
CDP Integration Services
Dunn Solutions has experience connecting to and extracting data from many of the common data sources used today (CRM, ERP, Google Analytics, etc.). Our team leverages out the box CDP integrations plus we have the ability to create custom connections to almost any dataset. We deliver a customizable and scalable solution for your B2C or B2B organization.
Schedule a free consultation to learn how we can help you with your CDP integration.
Benefits of a Consumer Data Platform: 360-degree view of the customer
Break down silos and consolidate all data across the organization
Creating insights from the data through machine learning
Use insights to drive customer interactions that are real-time and hyper-personalized
See comprehensive ROI for every marketing tactic by tracking the entire sales process from end-to-end across all channels
Generate more leads by identifying anonymous web visitors and capturing them with forms, so your sales funnel stays full
Increase number of qualified leads by nurturing all leads with relevant, real-time content
Drive more sales by identifying sales-ready leads for the sales team and helping them follow up at the right time.
Improve up-selling and cross-selling by developing and retaining existing customers
Shorten Sales Cycles by having a 360-degree view of the customer
Reduce IT costs and resources through automation and consolidation
Keep your customer data compliant with industry standards and regulations
Customer Journey Mapping and CDP
Whether you have a robust customer journey map or are just beginning, Dunn Solutions can provide customer journey consultation services to optimize your CDP strategy.
Customer Journey Mapping is essential to a successful CDP solution:
Insights will provide data for automation triggers associated with journey maps
Increase conversions by understanding persona-driven behavior
Optimize your customer journey workflows through machine learning and predictive analysis
Machine Learning Provides Actionable Insights
While nobody has a crystal ball, Dunn Solutions' data scientists leverage the power of machine learning to identify market segments to target, create customer scores and trigger points based on custom ML models and identify where customer are in the journey. You can find patterns, create predictive models, and score data in real time and near real time.
Dunn Solutions partners with industry leading CDP software solution providers, allowing us to find the best solution for your business:
Whether you are ready to improve your customer's experience, drive meaningful action to grow customer lifetime value or optimize the customer journey with machine learning, Dunn Solutions is the perfect partner for your CDP project. Contact us today to see how a Consumer Data Platform can grow your business.
"Highly Capable Technology Consultancy Firm." Dunn is a great partner that supports implementing video-powered storefronts for salespeople, powered by TVPage. We have realized that Dunn is meticulous in its understanding of our systems and associated client needs.
"Great Liferay and PowerBI Solutions Partner." Dunn is a great partner to have. An extremely flexible and supportive group around various digital needs for us. They have a deep level of experience with Liferay, SAP, and various other solutions and topics as well.
"Pragmatic, Effective and Responsive." Dunn has been very responsive in providing a variety of resources to meet my needs. When planning technology upgrades or re-platforming, they understand that technology implementation is the easy part and we need to focus on the full adoption of said technology.
—
Eric S
IT Leader, Digital Transformers, Team Builder
"Our Business Intelligence Go-To." Dunn Solutions provided a POC data model and warehouse for very complex logic for our subscription KPI, they have also helped with the whole strategy for our Executive Reports with the use of Informatica and Business Objects publications to completely automate the process.
—
Maria J S
Manager Finance Business Intelligence Operational reporting, Data Quality and Project Support
Browse through our content library
WHITE PAPERS, WEBINARS, AND BLOGS