Featuring
Dashboards & Performance Management

Benefits of Dashboards & Reports

Examples of Dashboards & Reports
Dashboards & Performance Management
Dunn Solutions will deploy, configure, and develop on-premise reporting giving your organization the ability to:
Create and deliver enterprise transactional report
Allow business users to create their own ad-hoc reports
Abstract the complexities of underlying data and expose in business terms
Drag and drop web-based interface
Centralize and administer IT created and user created reports
Create and maintain enterprise data warehouse and ETL with Data Services
The corporation create uniformity of process
Have a single version of the truth from all data
Supports faster and intuitve, detailed analysis be department
Create and standardize reporting across departments
Built-in functions allow for high volume and variety of data
Drive more value with on-demand, user-friendly, sophisticated reporting
Create access levels to information by department/job function/project need
Benefits of Dashboards & Reports

With a cohesive and scalable data environment your team will be able to:
Track, measure, and adjust all marketing efforts to create the most profitable campaign
Combine customer information, target campaigns towards its consumers, create an intelligent marketing mix based on real-time data, and better allocate their marketing expenditures and focuses
Create benchmarks based on past performance for goal-setting and KPI measurement and reporting
Highlight trends and expose problems

Dashboard & Report Examples
Dynamic Visualizations
Easy-to-understand speedometers, graphs, tables and alerts
Highlight trends, expose problems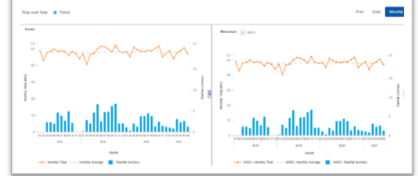 "Highly Capable Technology Consultancy Firm." Dunn is a great partner that supports implementing video-powered storefronts for salespeople, powered by TVPage. We have realized that Dunn is meticulous in its understanding of our systems and associated client needs.
"Great Liferay and PowerBI Solutions Partner." Dunn is a great partner to have. An extremely flexible and supportive group around various digital needs for us. They have a deep level of experience with Liferay, SAP, and various other solutions and topics as well.
"Pragmatic, Effective and Responsive." Dunn has been very responsive in providing a variety of resources to meet my needs. When planning technology upgrades or re-platforming, they understand that technology implementation is the easy part and we need to focus on the full adoption of said technology.
—
Eric S
IT Leader, Digital Transformers, Team Builder
"Our Business Intelligence Go-To." Dunn Solutions provided a POC data model and warehouse for very complex logic for our subscription KPI, they have also helped with the whole strategy for our Executive Reports with the use of Informatica and Business Objects publications to completely automate the process.
—
Maria J S
Manager Finance Business Intelligence Operational reporting, Data Quality and Project Support
Browse through our content library
WHITE PAPERS, WEBINARS, AND BLOGS