Featuring
Optimize Unite Price and Increase Sales

Price Optimization Model

Price Optimization and Marketing
Optimize Unit Price and Increase Sales
Imagine if you had the ability to increase profit margin by 10% and a 40% increase in units sold. If your organization struggles with why some products sell well and others sit on the (virtual) shelf, a price optimization model will determine pricing to reflect demand and maximize units sold at a predetermined margin%.

These predictive analytics models consider any or all of these factors to maximize gross sales and profit margin:
Current vs. optimal price
Cross-product cannibalization
Seasonality
Competitive pricing
Discounting
Price Optimization Model
Our team will analyze your past sales data (POS and e-commerce) and develop a predictive model to determine the optimal price for each item in the data set to maximize units sold and margin.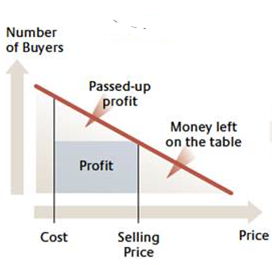 Price Optimization and Marketing
Once the model is executed, this creates an opportunity for the number of buyers to increase. The hidden opportunity lies in acquiring new customers in addition to current customers when the incentive to purchase is at the "sweet spot".
Marketing must be prepared to engage with new customers and get them into the sales funnel. To maximize this opportunity, consider Dunn Solutions to create a marketing mix attribution model. This model will determine your optimal spending per channel for the most profit.
"Highly Capable Technology Consultancy Firm." Dunn is a great partner that supports implementing video-powered storefronts for salespeople, powered by TVPage. We have realized that Dunn is meticulous in its understanding of our systems and associated client needs.
"Great Liferay and PowerBI Solutions Partner." Dunn is a great partner to have. An extremely flexible and supportive group around various digital needs for us. They have a deep level of experience with Liferay, SAP, and various other solutions and topics as well.
"Pragmatic, Effective and Responsive." Dunn has been very responsive in providing a variety of resources to meet my needs. When planning technology upgrades or re-platforming, they understand that technology implementation is the easy part and we need to focus on the full adoption of said technology.
—
Eric S
IT Leader, Digital Transformers, Team Builder
"Our Business Intelligence Go-To." Dunn Solutions provided a POC data model and warehouse for very complex logic for our subscription KPI, they have also helped with the whole strategy for our Executive Reports with the use of Informatica and Business Objects publications to completely automate the process.
—
Maria J S
Manager Finance Business Intelligence Operational reporting, Data Quality and Project Support
Browse through our content library
WHITE PAPERS, WEBINARS, AND BLOGS