Streamlined Patient Portal Solution Simplifies Process and Creates Value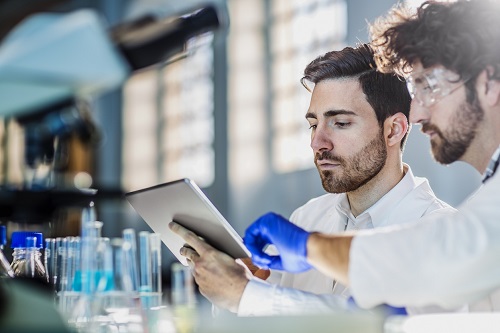 Diagnostic Lab Patient Portal
Solution: Portals, Client Portals, Digital Customer Platforms
Industry: Healthcare & Medical, Pharmaceutical
Project: Diagnostic Lab Patient Portal
Client: Diagnostic Lab
Our client is a leader in the development and commercialization of novel pharmaceutical and diagnostic products that enable physicians to provide greater individualized patient care.
Challenge: Diagnostic Laboratory Seeks to Develop Patient Portal
As an innovative organization, they developed a patented GI Diagnostic Testing Kit that can be requested online by physicians from our client's laboratory and sent to patients to be administered in their own home. This kit revolutionizes the patient experience for those struggling with chronic GI problems as they previously went through extensive testing with many different doctors using many different tests. This created a very stressful patient experience which was time consuming, and often ended in lost results or stool/blood samples which are very stressful for patients to deliver.

This new kit, being administered in home, also combines many different tests most doctors previously didn't have easy access to, in order to create a more efficient and effective – and most importantly less stressful - testing process for patients. The current system for requesting diagnostic tests for patients and delivering results was entirely done on-paper, which proved to be very outdated, and had increased potential for mistakes. As there were many parties involved in requesting, testing, and delivering patient information, there was often a large time gap in testing and results delivery that the created the high potential for mistakes.
Solution: Streamlined Patient Portal Solution Simplifies Process and Creates Value
This client chose Dunn Solutions to deliver a full featured Patient Portal to its' patient clients, physicians, and internal users.
The Liferay Patient Portal was developed to integrate with the laboratories database using an enterprise service bus (ESB) in order to retrieve and display patient data. Patients are able to quickly and easily register themselves to the portal using codes given to them by their doctors. The doctors are also able to register themselves within the portal using their unique National Provider Identification (NPI) number for authentication. Using this portal, patients and doctors were able to see where the test was all along the way. From the tests initial request for delivery by the doctor, to its being delivered to the patient, to its being mailed out and tested by the laboratory. After testing doctors are then able to release results to patients via the portal. There was extra functionality built within the portal for the tests being requested to be fulfilled from the lab by UPS. The portal also gives the patient information of the nearest drop off location of the completed testing kit, which has extensive patient information tagging to ensure no mistakes are made.
The portal environment, both the database and servers, are fully hosted and managed leveraging Microsoft Azure technology in order to ease the technology burden off of the laboratory, so they may focus on what they do best – diagnostic testing. Their new portal leverages many out-of-the-box features of Liferay including single sign-on access, content targeting, two factor authentication, and customizable workflows and tasks. Our expert developers also integrated with many third party systems including EMR, accounting systems, and third party logistics companies including FedEx. Additionally, our teams developed interactive graphs of test results, a native mobile application able to be used offline, and text messaging capabilities with the platform.
Result: Patient Testing Experience Revolutionized, Portal Creates Ease and Efficiency in Diagnostic Testing and Reporting
With the new ease of in-home testing and patient portal, patients' lives have been changed. The process of sample collection and submission, as well as the combination testing has effectively changed the lives of individuals struggling with chronic GI issues. The laboratories new patient portal streamlines the doctor/patient eco-system. With its ease of registration, access, and dynamic results displays this new portal cuts down on doctor visits needed previously. Doctors can now order tests, send tests to the lab, and release results to the patients directly from the portal.