Retailer Migrates its E-Commerce Site to BigCommerce to Optimize Backend Integrations, and Improve Shopping Experience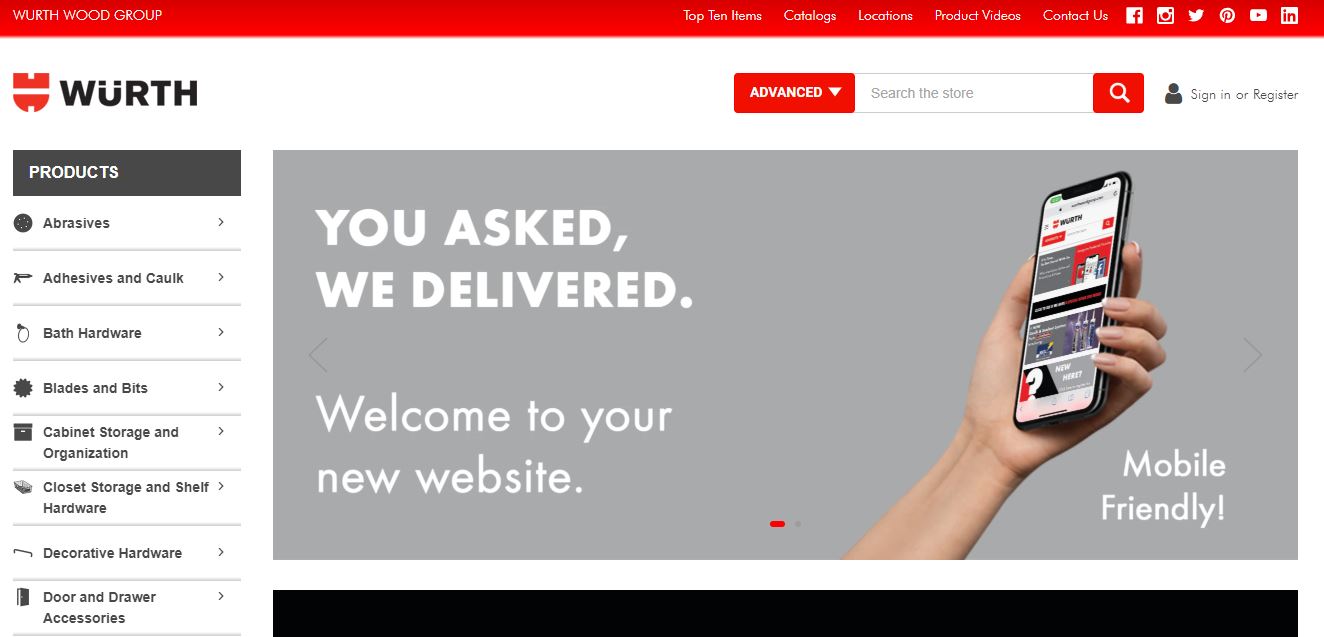 E-Commerce Site Migration and Redesign
Solution: E-Commerce, Digital Customer Platforms, B2B E-Commerce
Project: E-Commerce Site Migration and Redesign
Client: Wurth Wood
Wurth Wood Group, a retail supplier of high quality wood working products and services, is headquartered in Charlotte, North Carolina with twelve locations across the southeast. The Wurth Wood website provides an on-line shopping experience for individuals and trade customers looking to purchase and have delivered various wood, cabinet, abrasive, hardware, fasteners, and lighting products.
Challenge: Existing E-Commerce Site Requires Upgrades
The company's e-commerce site integrates with their ERP solution to deliver information from the business to the shopper. The backend integration with their ERP however was not processing in real time and was not fully optimized which reduced the speed and performance of the site. Shoppers could not see real time pricing or product updates because of this. Making other content changes on the site proved to be cumbersome as well. Shoppers were not able to filter products by brand name which was a limitation in the site's functionality.
These factors diminished the overall shopping experience and prompted Wurth Wood to make a change to their e-commerce site.
Solution: Dunn Solutions Team Implements Migration and Redesign to New Platform
Wurth Wood made the decision to move their current site to a new e-commerce platform, BigCommerce, rather than starting from scratch. As a certified BigCommerce partner, Dunn Solutions was the ideal choice to implement the migration and redesign of their site to address their current challenges.
The Dunn Solutions team migrated all of Wurth Wood's existing products, users and content to the BigCommerce platform and built a middleware to connect BigCommerce to their existing ERP and to optimize that integration. Dunn Solutions utilized BigCommerce's enhanced product filtering functionality to improve Wurth Wood's product search capabilities and developed a responsive, new design that would improve the site's shopping experience. In addition, a custom document library was created for internal sales and marketing people to use to add and manage marketing and sales content.
Result: New Backend and Frontend Enhancements Improve Customer Experience
By optimizing the integration with BigCommerce and Wurth Wood's ERP, the new e-commerce site is able to show real-time pricing and product updates. Site speed and performance have greatly improved. Shoppers are now able to search products by brand name among a variety of other product filters. The site's backend control panel is easier to use to edit sales and marketing content.
Using BigCommerce's in-store analytics dashboard has provided Wurth Wood with valuable user data for metrics such as cart abandonment and most frequently viewed products.
These site enhancements have improved the site's overall shopping experience for their customers and have yielded Wurth Wood with greater actionable insights to increase sales.