End User Portal for B2B2C Manufacturer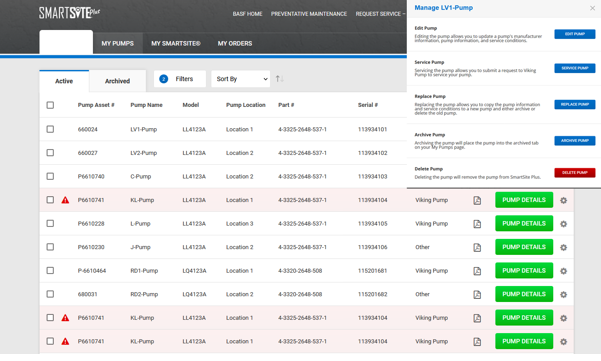 Portal Provides a Digital Solution to Create Efficiency and Transparency
Project: Portal Provides a Digital Solution to Create Efficiency and Transparency
Client: Industry Leading Pump Manufacturer
Our client is a manufacturer that has been a pump industry leader and innovator since its founding in 1911. They deliver innovative pumping solutions (including custom designs) in some of the world's toughest applications in virtually every industry.
Challenge: No Method of Keeping Track of and Accessing Data About Pump Inventory
There are thousands of customers who use millions of this manufacturer's pumps around the world. Our client partners with a network of stocking distributors to provide technical, service and sales support to end user customers. A customer might have hundreds of pumps and rely on this machinery to keep their facilities operating efficiently. Customers commonly keep this information in binders, files, and spreadsheets that are potentially hard to find, out of date, or incomplete. It is also a manual process to schedule repairs and order parts and replacements.
The pump manufacturer wanted to provide a value-added service for their end user customers by creating a web-based portal that centralizes all customer pump information. They also wanted to create a value-added service for their distributor partners by enabling them to better service their customers and generate revenue. The company challenged Dunn Solutions to create a portal that could enable a direct relationship with end user customers, improve efficiencies, and provide insight into an end user customer's pump purchases.
Solution: Dunn Solutions Portal Experts Design and Implement an End User Portal Solution
The Dunn Solutions team engaged with corporate stakeholders and facilitators to conduct surveys and document use cases. Our consultants reviewed the requirements and developed a comprehensive technical solution which met the customer's goals. Additionally, we collaborated with the customer to conduct internal demos with key customers to receive feedback throughout the project.
Result: Portal Provide a Digital Solution to Create Efficiency and Transparency
As a result of a successful implementation, the pump manufacturer and their distributors have visibility to end user pump inventory and equipment status. The portal provides their customers access to a central site to access drawings, videos and collateral, track inventory, and access, record and manage all pump details for both our customer and other pump manufacturers. End user customers can also view distributor approved pricing and place orders for replacement parts or new pumps and schedule service requests through the portal.