Re-Designed Websites Deliver Significant Improvements to Navigation and Content Management

Portal Development with Social Integration
Solution: E-Commerce, Portals, Digital Customer Platforms
Industry: Insurance
Visit: www.nglic.com
Project: Portal Development with Social Integration
Client: National Guardian Life Insurance Company
National Guardian Life Insurance Company, and its subsidiary Settlers Life Insurance Company, both had customer websites that featured content for visitors with different purposes, including consumers and a network of partners.
Solution: Liferay Enables Marketing Department to Manage Website Content
NGLIC purchased Liferay and selected Dunn Solutions Group, a trusted Liferay partner and website specialist, to architect, design and deploy the new websites on their Java application server. Dunn Solutions worked with the marketing teams to design the sites' new information architecture and develop the themes and templates. Both sites were re-architected to feature more intuitive navigation by grouping information by visitor type. Liferay's out-of-the-box content management functionality was deployed enabling the marketing team to manage updates and changes entirely on their own. The Dunn team also implemented a Facebook portlet on the homepage that displays recent updates from the companies' Facebook pages and enables visitors to "like" posts directly from the homepage.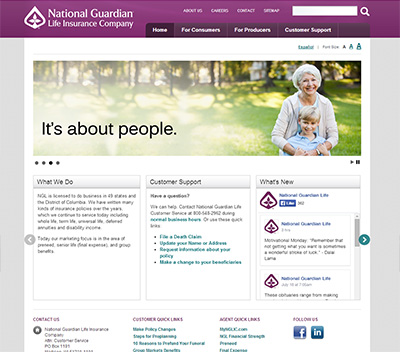 Result: New Websites Deliver Better User Experience
NGLIC's marketing teams can now easily make updates without any help from their IT departments. The websites' content is now organized by visitor type and visitors are never more than three clicks away from what they need- a huge improvement over the old websites, which often required twice as many clicks to reach the same content. And to accommodate mobile visitors, the sites have been formatted for those using tablets.