Hospital Develops an eVisit Portal to Replace Some Costly Emergency Room Visits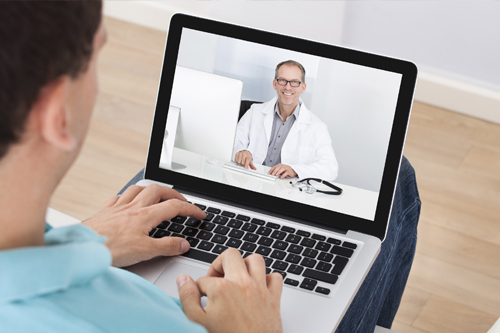 Patient Engagement Portal with eVisit
Solution: Portals, Client Portals, Digital Customer Platforms
Industry: Healthcare & Medical
Project: Patient Engagement Portal with eVisit
Client: Healthcare Provider
A hospital that is part of a healthcare system with locations in twenty one states was seeking a new way for their patients who visit their Emergency Room to seek medical care.
Challenge: Audit Reveals Many ER Visits Could Be Successfully Replaced With Simple Medical Consultations
After an insurance audit revealed that eighty-nine percent of non-life-threatening ER visits were due to three medical conditions that are easy to diagnose and treat, the hospital decided to introduce medical consultations using video conferencing technology. These convenient virtual consultations, "eVisits", could replace Emergency Room visits that are time consuming and costly to both insurance providers and patients.
Solution: Dunn Solutions Guides Internal Team on Portal Development and Implementation
The hospital approved the eVisit portal project, built on the Liferay Enterprise Platform, and Dunn Solutions, a Platinum Liferay Services Partner, was chosen to provide guidance and development support to the hospital's internal portal project team. The Dunn Solutions Team consulted on the portal's architecture, best practices on implementing Liferay, and provided additional development capabilities, such as implementing rules and workflow, to the internal team. The portal is integrated with a telemedicine video conferencing product and requires that patients register to request a consultation with a member of the Emergency Room's medical staff. Once the patient requests an appointment, they are notified by email and/or text of their scheduled video conference time and placed into a queue. The video consultation is much like an in-person medical appointment; symptoms are discussed; treatment is advised; medications are prescribed; and follow up is planned, if necessary. The portal is integrated with the hospital's EMR (Electronic Medical Records) technology using Liferay's authentication functionality, and will query for a record match in order to make the patient's medical history available for the eVisit.
Result: eVisit Portal to Reduce Costs For Patients and Insurance Providers and Provide a More Convenient Emergency Medical Visit Option
The current pilot phase is serving the hospital's self-insured employee population; a relatively small control group who can help identify areas where the process can be improved. At the conclusion of the eVisit, the patient is provided with a feedback form. The portal also tracks and reports on helpful metrics such as consultation request volume and who left the queue before being consulted with. In order to drive participation in the eVisit pilot program, email and direct mail is being leveraged to advertise that the first visit is free, and additional visits are offered for an affordable co-payment amount. The convenience and ease of the virtual consultation is preferred over the often long and sometimes stressful visits to the ER. The goal of this pilot phase is to reduce ER visits by one percent. This small reduction is expected to result in significant cost savings to the insurance program. The eVisit program is expected to be successful and will be rolled out to the general public served by this hospital, and later to other hospitals within the healthcare system.