e-Commerce tool implementation to service the marketing needs of an insurance agency's field agents.
Online Marketplace Design and Development
Solution: E-Commerce, Digital Customer Platforms, B2B E-Commerce
Industry: Insurance
Project: Online Marketplace Design and Development
Client: Insurance Services
Our client is a leading innovator in crop insurance that provides risk management for more than one hundred crops and serves all fifty states through a network of more than five thousand field agents. Meeting the marketing needs of such a large and spread out team required an efficient ordering process to ensure accurate and timely delivery of items such as collateral, logos, digital assets and promotional items.
Challenge: Existing E-Commerce Tool Limits Effective Ordering and Delivery of Marketing Items
The company's marketing department was using an ecommerce "shopping cart" product, however the application didn't allow users to place orders successfully - order data was frequently lost, causing delays as orders were being cleaned up manually. In addition, the product's customization capability was limited and it was difficult to quickly navigate through the ordering process. The field agents were frustrated and the marketing department was eager to replace its existing ecommerce product and introduce a user-friendly, reliable virtual marketplace.
Solution: Dunn Solutions Implements New E-Commerce Solution
To design and deliver the user-friendly and efficient marketplace the company envisioned, Dunn Solutions selected a developer-friendly, ASP.Net technology as the new ecommerce solution. The technology included source code which enabled the customizations needed to meet the ordering process requirements.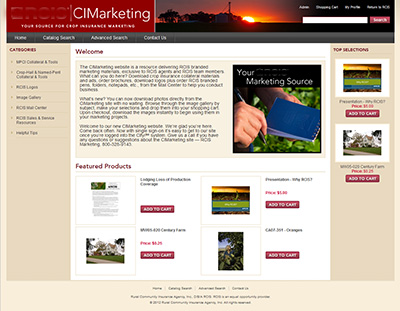 Dunn incorporated the company's branding into the design the solution and delivered an easy-to-use marketplace that featured intuitive, user-friendly navigation and a reliable order submission process. Single sign on functionality using Active Directory was granted through their internal portal to conveniently authenticate and pre-populate user information based on employee or agent profiles.
Result: Improved Shopping Experience and Reporting
The company's marketing department now better serves its agents through an intuitive, user-friendly marketplace that effectively delivers support materials needed to increase sales. And, new reporting capabilities provide the department with visibility into order and inventory information for more strategic and efficient production of marketing support items.