B2B Follow Up Virtual Event
B2B Follow Up Virtual Event
It is time to create a frictionless online B2B buying experience
Learn how to create personalized experiences throughout the B2B customer journey on one platform
B2B companies have traditionally valued in-person sales over using marketing and e-commerce to their advantage. NOW, more than ever before, is the time to leverage all channels available to you to give your customers what they want and increase sales while doing so.
Personalized Content (Content Management System)
Landing Pages
Microsites
Videos
Blogs/Whitepapers
Fully-functional catalog and cart capabilities
(E-commerce

Platform)
Customer Specific Pricing
Quoting Workflow
Tiered Pricing
Back End Integration
Automated Re-ordering
High touch customer service (Customer/Vendor Portal)
Account Management
Post-Sale Support Site
Customer Communities/Forums
User Guides, MSDS
No Charge B2B E-commerce Assessment!
1 full day of consulting with our B2B e-commerce experts for qualified customers. Dunn Solutions will meet with you to conduct a deep dive discovery of your organization's needs and review the development of an end-to-end digital transformation e-commerce strategy and solution.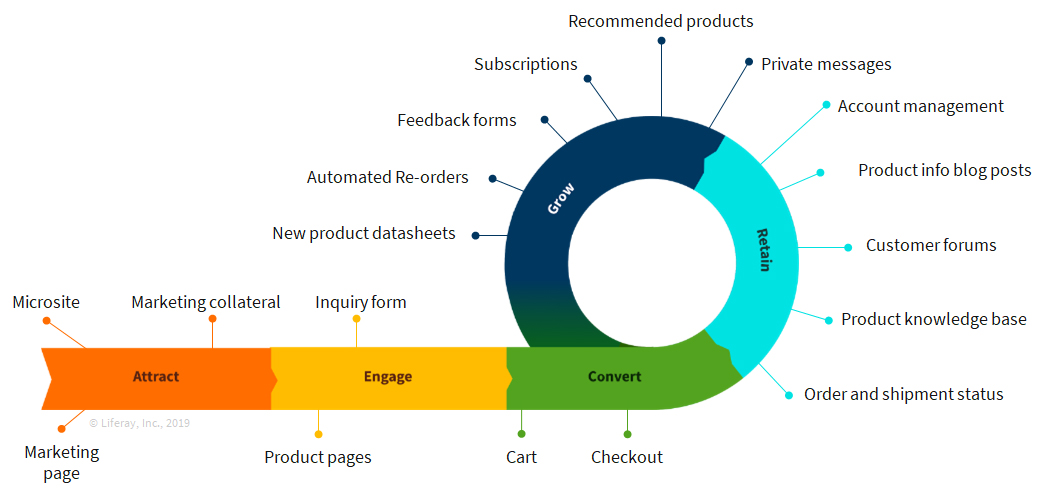 Many times, B2B companies try to piece together this buying journey through multiple platforms that may or may not integrate nicely. One solution can bring together all of the content management, e-commerce and portal features you need to enable your B2B customer journey. This solution is Liferay DXP. With this one unified platform you can address each of the touchpoints in the B2B customer journey.
As a Gold Certified Liferay Partner, Dunn Solutions are B2B digital transformation experts who have decades of experience in content management, B2B e-commerce and custom portal development. This experience makes Dunn Solutions a perfect fit to help you get started with Liferay DXP and all that it has to offer! Contact Dunn Solutions today to take your B2B commerce experience to the next level.
Contact Us