Blogs
B2B Dealer Ordering Ecommerce Solution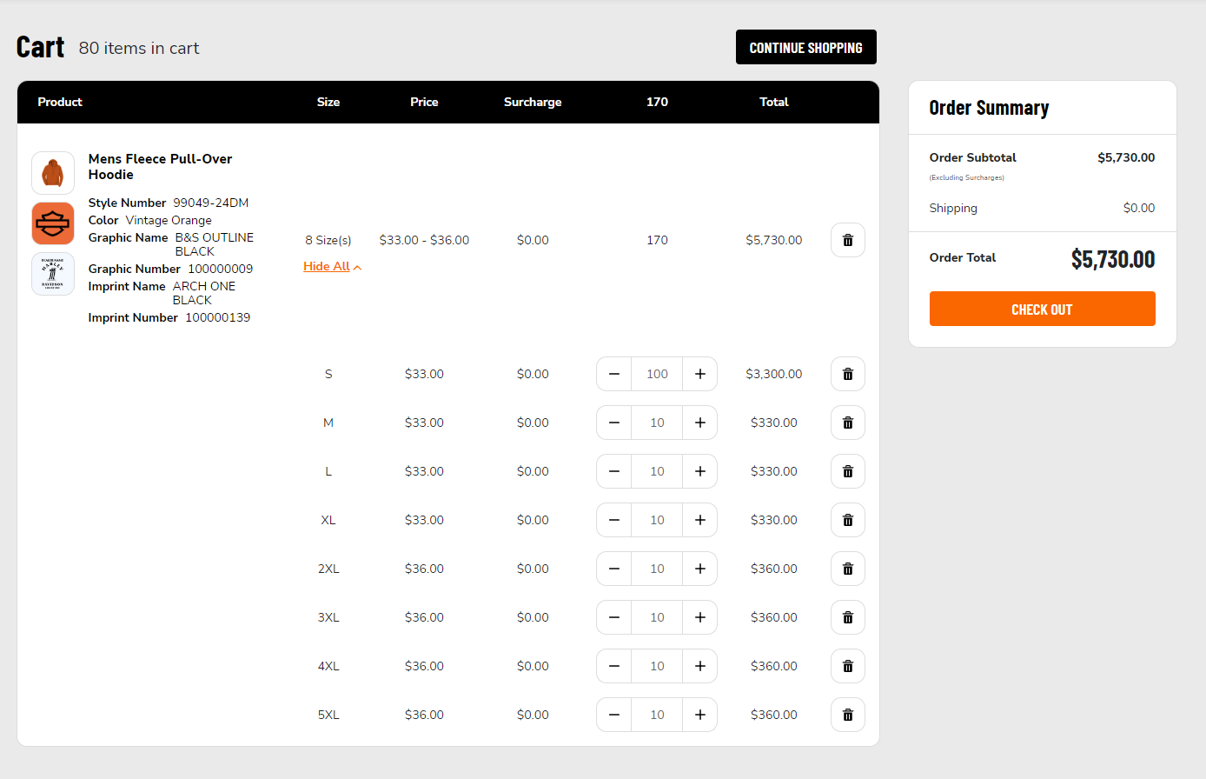 Headless Ecommerce Solution Developed for Major Motorcycle Brand
Project: Headless Ecommerce Solution Developed for Major Motorcycle Brand
Client: Major Motorcycle Brand
Our client, a major motorcycle brand company, sells branded merchandise through its' worldwide dealer network. The products are branded merchandise which can be customized by each dealer from a large selection of graphics and images.
Challenge: No Automated Process for Processing Complex Customized Orders
There are many specific brand rules which made ordering complex and difficult for dealers and the entire process was handled using offline mechanisms like email and phone. Orders being placed had hundreds of units per order with customization for each product type. The original process was oriented around excel spreadsheets and many meetings with clients. Finally, catalogs and options change 3 times a year which further created additional challenges during the ordering process.
Our client engaged with Dunn Solutions to provide a new digital buying experience built on the BigCommerce platform transition them from a manual process to a fully automated B2B Ecommerce platform.
Solution: Dunn Solutions Develops Headless BigCommerce Solution
Dunn Solutions worked with our client to gather requirements and created technical specifications to build a headless BigCommerce solution to support this complex and custom rule-based ecommerce workflow. Our team decided to deliver a headless BigCommerce solution to be able to offer a custom user experience that can be further enhanced in the future to any specific UI/UX demand our customer had. We leveraged the BigCommerce Cart API and Order API for order management, and BigCommerce's native catalog for product and variant handling. Key to the success of the project was the intuitive workflow which graphically allowed a user to shop and configure their products while adhering strictly to the brand rules desired by our client. This meant that only valid orders were allowed to be processed in the cart.
Result: Solution Provided Streamlined Customer Experience
The solution is now live and provides a curated and customized customer purchasing journey. This BigCommerce solution successfully enabled an automated, seamless ordering experience for the client and the internal business, eliminating manual excel spreadsheet orders or manually entering orders into the ERP. Dunn Solutions implemented business logic into the ecommerce solution which drives productivity and eliminates manual business processes. As a result, this increased dealer satisfaction with the ordering process and eliminated re-order and cancelled order issues inherent the manual process.

Creating a Complete B2B Experience Beyond the Cart!
With the current environment limiting the amount of face to face selling, B2B companies need to find a way to engage clients. Too often attention is only paid to the act of "buying" or filling the cart, where in reality companies need to engage with clients throughout the entire buying journey.
Featured at the B2B Online Virtual Event, Bill Dunn, President of Dunn Solutions Group, in partnership with Liferay, talks about how the right combination of technology can enable the full buying cycle, not just commerce, enabling companies to digitally interact with customers and drive revenue in new ways.
Takeaways from this video include:
Better understanding of the digital transformation required across the entire customer journey
Key strategies every B2B business should be doing beyond the "cart"
How you can leverage data and digital experiences to enable the virtuous cycle of e-commerce
SAP Emarsys Customer Engagement Platform Consulting & Services
FEATURING
Viewing: Customer Engagement Platform Implementation Experts
Customer Engagement Platform Implementation Experts
Between fast-growing social media platforms, new business models and sales channels, your business must be agile enough to meet customers where they are - at all times.
By partnering with Dunn Solutions, a platinum SAP partner, for your Emarsys implementation, you can manage all of your marketing channels including email, social, notifications and in-store giving you a full 360 view of your customers.
Building on top of Emarsys' prebuilt campaigns and tactics (trigger based, predictive, etc.), Dunn Solutions will partner with your marketing team to leverage the appropriate ones as well as build out custom campaigns that are unique to your business.
Customer Journey Mapping Consulting
Our process begins with the Dunn Solutions team of experts identifying your unique customer journeys as well as advising you on how to leverage your content throughout each stage of the journey. Our goal: stay in the forefront of your buyer's mind during throughout their entire decision-making process. It all starts with a Customer Journey Workshop!
Identify how customers interact with your business, across all of your marketing channels (digital and non-digital)
Create target audiences and personas
Identify the points along the journey for customers to self identify leading to truly 1:1 marketing
Determine how to automate customers through their journey by leveraging Emarsys' awesome capabilities
Leverage Marketing Analytics and Data Science to Increase Effectiveness
Our Marketing Analytics and Data Science team will work with your marketing team to:
Create custom scoring, at an individual level, that is unique to your business
Set up dynamic audiences that are created automatically via scoring models for optimal segmentation and messaging
Define segments that will create hyper-focused target audiences for each of your tactics
Maximize margin by personalizing offers to give the right price at the right time with the right message
Create Content Which Aligns with Customer Segment and Journey
Without creating appropriate content for each segment and journey you can't deliver the personalized experience that customers expect, but developing content can sometimes be difficult for in-house teams. Dunn Solutions expert content developers and graphic arts team can bring life to your multi-dimensional marketing efforts by creating the appropriate content for each stage of the customer journey and target audience
To begin partnering with Dunn Solutions on your SAP Emarsys implementation or support project contact us or email us at info@dunnsolutions.com today!
End User Portal for B2B2C Manufacturer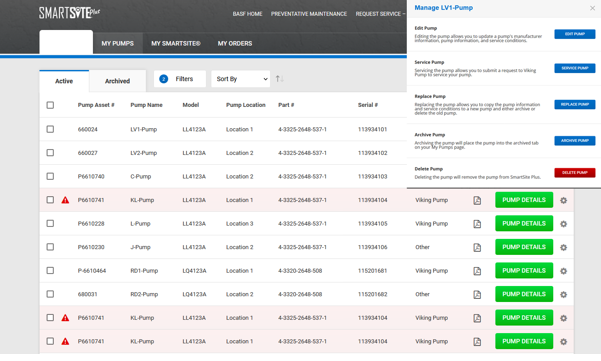 Portal Provides a Digital Solution to Create Efficiency and Transparency
Project: Portal Provides a Digital Solution to Create Efficiency and Transparency
Client: Industry Leading Pump Manufacturer
Our client is a manufacturer that has been a pump industry leader and innovator since its founding in 1911. They deliver innovative pumping solutions (including custom designs) in some of the world's toughest applications in virtually every industry.
Challenge: No Method of Keeping Track of and Accessing Data About Pump Inventory
There are thousands of customers who use millions of this manufacturer's pumps around the world. Our client partners with a network of stocking distributors to provide technical, service and sales support to end user customers. A customer might have hundreds of pumps and rely on this machinery to keep their facilities operating efficiently. Customers commonly keep this information in binders, files, and spreadsheets that are potentially hard to find, out of date, or incomplete. It is also a manual process to schedule repairs and order parts and replacements.
The pump manufacturer wanted to provide a value-added service for their end user customers by creating a web-based portal that centralizes all customer pump information. They also wanted to create a value-added service for their distributor partners by enabling them to better service their customers and generate revenue. The company challenged Dunn Solutions to create a portal that could enable a direct relationship with end user customers, improve efficiencies, and provide insight into an end user customer's pump purchases.
Solution: Dunn Solutions Portal Experts Design and Implement an End User Portal Solution
The Dunn Solutions team engaged with corporate stakeholders and facilitators to conduct surveys and document use cases. Our consultants reviewed the requirements and developed a comprehensive technical solution which met the customer's goals. Additionally, we collaborated with the customer to conduct internal demos with key customers to receive feedback throughout the project.
Result: Portal Provide a Digital Solution to Create Efficiency and Transparency
As a result of a successful implementation, the pump manufacturer and their distributors have visibility to end user pump inventory and equipment status. The portal provides their customers access to a central site to access drawings, videos and collateral, track inventory, and access, record and manage all pump details for both our customer and other pump manufacturers. End user customers can also view distributor approved pricing and place orders for replacement parts or new pumps and schedule service requests through the portal.
Wouldn't it be great to have a tool that could tailor marketing messages to the right audience and moment, and then gauge and alter campaigns to maximize sales? It would sure save time and energy.
With marketing automation, businesses can:
Save time and resources: Automation tools can handle repetitive tasks, such as sending emails and social media posts, freeing up time and resources for more strategic activities.
Enhance customer experiences: Automation can help businesses to deliver personalized and relevant content to customers, improving their overall experience.
Increase efficiency and productivity: Automation helps to standardize and streamline marketing processes, making them more efficient and effective.
Improve the ROI of marketing campaigns: By using automation to track and analyze data, businesses can gain insights into what works and what doesn't and adjust their marketing efforts accordingly to maximize their return on investment.
Convert More Shoppers, More Often, at Higher Value
Your customers don't have time to waste on irrelevant messages. If you're sending them content that fails to align with their interests, you're training them to ignore your brand… or you could even be giving them reason to unsubscribe. 
By tailoring each experience to your customers' interests and communication preferences, you establish your brand as the most reliable and trusted resource for all their needs. 
Why Marketing Automation is a Must-Have
If you're looking to drive customer growth and revenue, lean on automation to do the heavy lifting. Using automation in the sales cycle enables you to deliver highly personalized customer experiences at scale while removing the mundane burden of deploying communications manually. It also reduces the margin for human error and frees your marketing team to focus on other critical tasks. Keep the following automation tips in mind:
You'll want to test and optimize your marketing automations before your busy selling season- you don't want any surprises that eat into revenue.
Customer attention spans are shorter than ever, and the overall sales cycle is faster. Plan ahead to assure your content (images, product information, customer segmentation) is ready to make your automation processes as efficient and engaging as possible.
Testing your essential automation tactics like "Price Drop" and "Back-In-Stock" to gain a better understanding of which automations are most effective and useful for your marketing team.
Maximize ROI with AI-powered Marketing Automations
Grow a database of engaged, high-value customers and dramatically improve time to value with pre-built, AI-powered marketing automations. From abandoned cart to customer churn, Emarsys identifies key growth opportunities and helps you capitalize on them fast, with easy-to-use strategies that can be executed in a single click.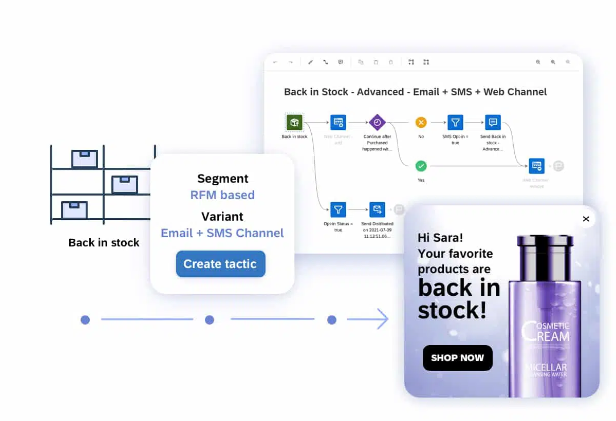 Deliver Transactional Engagements at Scale
Easily integrate Emarsys across email, web, mobile, ads, direct mail, and in-store, and gain the agility you need to deliver effective transactional campaigns and keep up with supply chain dependencies. Keep shoppers shopping with fast password reset messages, reduce customer support enquiries with SMS shipping updates, and build anticipation with order confirmation and post-purchase emails at scale.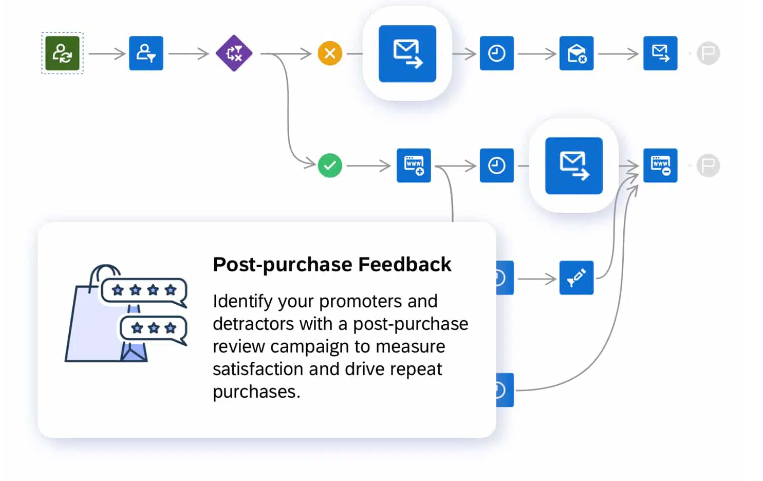 Leverage Automation for a Better Customer Engagement
Depending on your customer engagement solution, you'll have a host of automations at your fingertips. Here are some ways you can use automation to enhance your customers' shopping experience and make your team more efficient:
Abandoned cart campaigns: You can use a combination of channels to re-engage your customers who failed to complete a purchase, including email, SMS, and social media advertising. For instance, set up an automation so that if a customer abandons their cart while shopping on your app or website, a push notification will be sent to their mobile device, encouraging them to return.
Simplify your checkout process: To prevent cart abandonment, make it as easy as possible for customers to put product(s) into their cart and complete the checkout process. Requiring customers to fill in excessive information, or not enabling autofill, may cause friction, which decreases the chances they'll finish their purchase.
Use SMS to unite in-store and online: Experiment with entering leads into creative SMS campaigns. Invite customers into these campaigns via in-store QR codes, web push notifications, or in-app alerts. SMS messaging can be a powerful way to build awareness with your audience, reveal your most engaged customer segments, and increase purchase consideration.
Dunn Solutions and Emarsys
With Dunn Solutions' expert SAP Emarsys consulting and services, businesses can increase revenue and exceed customer expectations with personalized, in-the-moment messages.
As a leader in Gartner's Magic Quadrant for Personalization Engines – SAP Emarsys offers a complete solution – beating other top Customer Engagement platforms on the market today. Combining the features of SAP Emarsys with the marketing and integration capabilities of Dunn Solutions gives our clients the solution they need to leverage advanced predictive models and customer journeys to turn insight into automated marketing action. Learn more here or contact us today.
Written By: Elizabeth Mackey
Published: January 11, 2023
Source: Omnichannel Customer Engagement for Retail Marketers | Emarsys
Blogtag
Emarsys, Marketing Automation, Customer Engagement Platform, Consultant, Personalization