Featuring
Creating the Right Content

Benefits of a Content Strategy

Content Strategy Services

Dunn Solutions Content Managment Services
Creating the Right Content
As businesses increasingly focus on digital communication, the right content is critical. A business has to identify what they want to communicate, how they want to communicate it, and who they are communicating to. In addition, it has to be easy to find, which means utilizing tools and resources to optimize for SEO and SEM.

In addition, in order to automate customer journeys, those triggers have to have a library of images, videos, advertisements, product descriptions, etc,, to create a personalized experience.
Benefits of a Content Strategy
With a flexible, workflow-based infrastructure, you gain the ability to:
Communicate products, services, marketing, press releases and partnerships on a timely basis
Target content to customers based on their preferences and desires
Optimize content for mobile and tablets to account for content shifts and page loads
Maintain an integrated process for distributing information to product managers, sales managers, and marketing managers within your organization and your channel
Content Strategy Services
To truly get the most out of your content, Dunn Solutions will work with your team to create a content matrix. The purpose is to:
Identify existing content and content types
Map content to identified end-users
Identify holes in content
Identify content creators and owners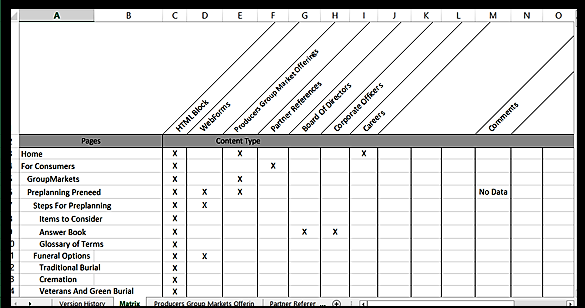 Once the content is identified and mapped, our consultants will execute your journey map tactics with pre-packaged campaigns. Our software execution automates triggers to target the right message at the right time to your customers.
Dunn Solutions Content Management Services
Dunn Solutions' content management consultants will reduce the time required to build and deploy content-driven websites, and provide extremely high scalability, reliability and performance for those sites. Our custom content management solutions allow you to create, manage and publish your own content directly on the website using a browser-based interface.
"Highly Capable Technology Consultancy Firm." Dunn is a great partner that supports implementing video-powered storefronts for salespeople, powered by TVPage. We have realized that Dunn is meticulous in its understanding of our systems and associated client needs.
"Great Liferay and PowerBI Solutions Partner." Dunn is a great partner to have. An extremely flexible and supportive group around various digital needs for us. They have a deep level of experience with Liferay, SAP, and various other solutions and topics as well.
"Pragmatic, Effective and Responsive." Dunn has been very responsive in providing a variety of resources to meet my needs. When planning technology upgrades or re-platforming, they understand that technology implementation is the easy part and we need to focus on the full adoption of said technology.
—
Eric S
IT Leader, Digital Transformers, Team Builder
"Our Business Intelligence Go-To." Dunn Solutions provided a POC data model and warehouse for very complex logic for our subscription KPI, they have also helped with the whole strategy for our Executive Reports with the use of Informatica and Business Objects publications to completely automate the process.
—
Maria J S
Manager Finance Business Intelligence Operational reporting, Data Quality and Project Support
Browse through our content library
WHITE PAPERS, WEBINARS, AND BLOGS