eSpirit: FirstSpirit DXP Consulting
e-Spirit: FirstSpirit DXP Consulting Services
eSpirit: FirstSpirit DXP Consulting
Dunn Solutions Develops Personalized Digital Experiences with e-Spirit's FirstSpirit DXP Platform
Dunn Solutions' FirstSpirit consulting experts use e-Spirit's hybrid DXP platform to deliver personalized content driven commerce experiences. The FirstSpirit DXP platform includes a hybrid (headless+) CMS, AI-driven personalization and omnichannel marketing capabilties.
The FirstSpirit platform has deep integratations with e-commerce platforms including SAP Commerce Cloud and BigCommerce. This enables Dunn Solutions to offer its e-commerce clients an easy to use DXP platform that has many advanced content management capabailities.
FirstSpirit Features Include:
Hybrid CMS (headless+) allows you to deliver content as-a-service in milliseconds to any device, yet still have front-end preview AND edit capabilities.
Microservices architecture to seamlessly integrate new technologies into your tech stack and future-proof your digital experience ecosystem.
Jumpstart your implementation with e-Spirit's FirstSpirit Experience Accelerator and launch in weeks, not months or years.
Empower your non-technical team to easily deliver inspiring content on any channel with its Touchpoint Editing and Smart Dashboards.
Personalize all aspects of your customer's journey with AI-powered personalization.
Easily create snippets of channel-specific content using its FragmentCreator UI.
With every implementation, Dunn Solutions' FirstSpirit experts will deliver you a content rich customer experience that will differentiate your company from the competition and will increase your ability to showcase your products/services, deliver your marketing messages, create two-way communication and generate customer leads.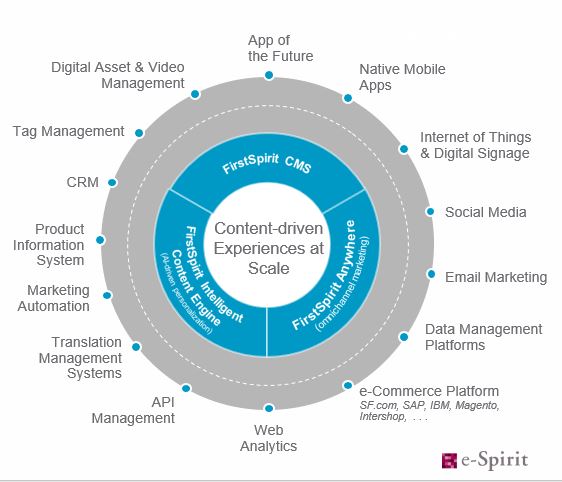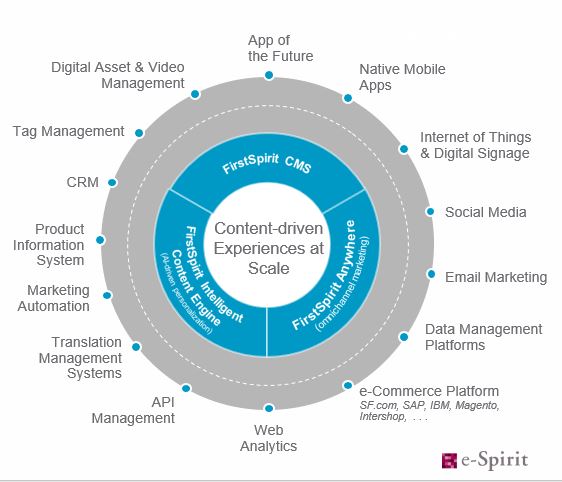 Why FirstSpirit & Dunn Solutions?
Why FirstSpirit & Dunn Solutions?
Content Personalization
Dunn Solutions' FirstSpirit consultants can help you unlock your creativity and give your customers the dynamic, individualized experiences they crave throughout the entire customer journey with FirstSpirit's hybrid CMS (headless + CaaS) with AI-driven personalization. By personalizing your site's content to your customers, you're showing them more of what they want to see. This will improve how you market to your customers and optimize their customer experience on your site.
Content Driven E-Commerce
While others claim deep integration with leading commerce platforms, FirstSpirit actually has them. With FirstSpirit, you get the unparalleled ability to add promotions, teasers, shoppable images and videos, and user-generated content with ease for an e-commerce edge.
Dunn Solutions' e-commerce experts will help you create an e-commerce content strategy that will drive revenue and then use data driven insights to direct your future e-commerce marketing efforts for optimization.
Scalable Digital Experiences
Dunn Solutions' FirstSpirit consultants will help you easily scale your digital ecosystem as your global footprint grows with multi-site management, and multilingual and multicultural experiences. FirstSpirit's flexible content architecture enables you to add new channels as they emerge for cutting edge experiences.
Rapid Deployment & Interoperability
Dunn Solutions' FirstSpirit consultants can help you streamline your integrations for faster time to value with FirstSpirit's flexible microservices architecture and API-driven interoperability. FirstSpirit is highly interoperable within any DX ecosystem which enables rapid deployment and innovation.
Dunn Solutions' FirstSpirit consultants can help you accelerate your deployment by using FirstSpirit's start-up package and Cloud native platform for faster content creation and delivery.
Enterprise Class DXP and Content Management
The FirstSpirit DX Platform was built for global businesses needing to simplify complex, distributed environments in the cloud. Dunn Solutions' FirstSpirit consultants have decades of implementation experience delivering custom content management and digital experience solutions to enterprise level customers.
Dunn Solutions' FirstSpirit Consulting Services
Dunn Solutions' FirstSpirit consultants
have decades of CMS and e-commerce implementation experience which makes us uniquely qualified to help your business take advantage of all of the content management benefits the FirstSpirit platform can bring to your e-commerce site.
Contact Dunn Solutions today
to learn more!